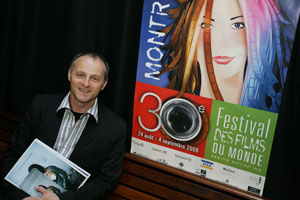 "Warchild", the second of a German-language Balkan trilogy by Christian Wagner (left), picked up the best Screenplay Award at the 30th Montreal World Film Festival. Written by Edin Hadzimahovic and Stefan Daehnert, "Warchild" is the tale of a Bosnian mother who discovers her long-lost daughter is still alive and well - with a family in Germany. The film, based on a true story, had already picked up the Special Jury Prize at the Bavarian Film Award. While the festival was still underway, "Warchild" was invited to screen at the Hamptons Film Festival which is held from 18th to 22nd October. For more news about Warchild, visit the
official Warchild site
. UPDATE: "Warchild" has just picked up the Audience Award at the 9th Festival Slovenskega Filma, held in the Slovenian town of Portorož from September 14 - 17.
In other German festival news, co-production "Khadak" by Peter Brosens and Jessica Woodworth was awarded the Lion of the Future Premio Venezia Opera Prima "Luigi de LAURENTIIS" at the 2006 Venice Film Festival for the Best Feature Film Debut. This award is open to all of the film debuts participating in the program sections of the Venice Film Festival and has a purse of Euros 100,000.
The Best of Short Films Festival in La Ciotat distinguishes the best shorts shown at international festivals for the year. Maximilian Engert was pleased with the award for his short "With a Flower (Durch die Blume)" as the third best short.